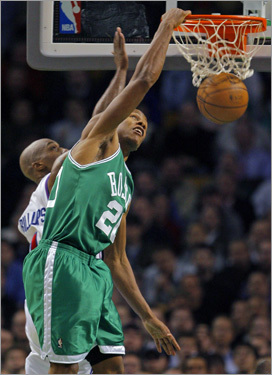 The Funkadelic Freestyles Sports Blog Special: Celtics-Pistons Rematch 7:30 pm
2008.
Funkadelic Freestyles is back ON in just over a week. (a.k.a. I gotta get my shit together) On the real though, the fam is all ready to go. I'll reveal our January 15th guest on Tuesday, a week in advance.
Funkadelic Freestyles w/ Nyadenya and jben,ok
Tuesday, January 15th, 2008
In the meantime, I've got a few tracks I'm willing to throw your way. All you gotta do is start posting comments, start emailing us (jbenok2@gmail.com), or hit up the MySpace (myspace.com/funkadelicfreestyles, currently under construction). 
The first track is from Chicago's fastball emcee Twista, produced by the musical genius The Alchemist. I have no idea how I got this song. Or if it was on Twista's Adrenaline Rush 2007 album. Bottom line: the beat's heavenly and the hook is DOPE.
Number two: He told us about this one back in September, but for some reason I let it escape me. Not a huge fan of Maroon 5, or Mary J Blige. But DC's own Wale KILLED this remix. (And I'm still geeking: I hear dude on Sirius everyday now, including a non-Wayne Nike Boots remix I've never heard before. No worries, I'll find out about this soon.)
I'll post a few more updates before the 15th. Until then, let 'em know you listening to FF!